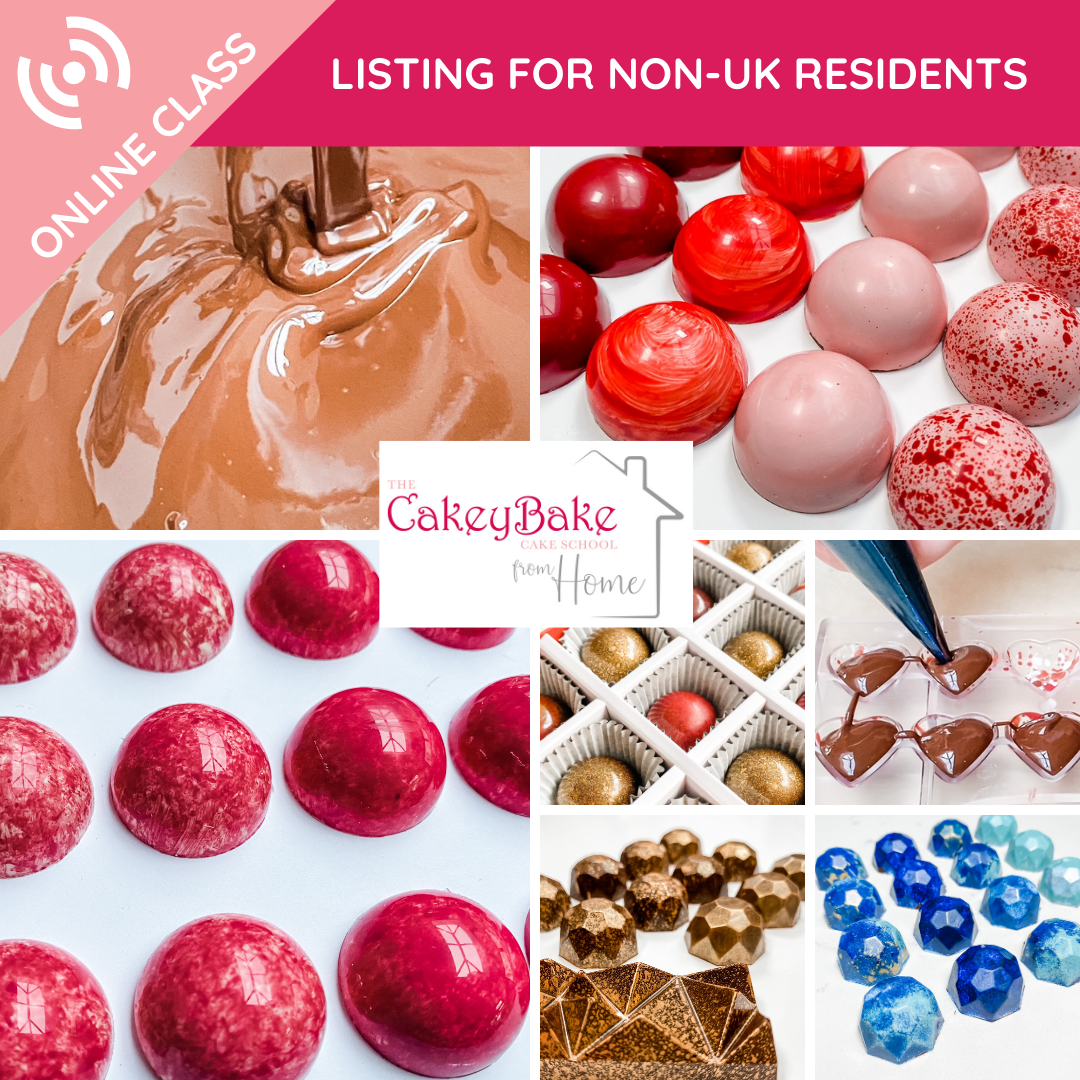 The Online Chocolate Class - Non UK Residents

A BRAND NEW online chocolate making class teaching you how to create stunning filled chocolates from the comfort of your own home!

£39.50
This Class is now Fully Booked
ONLINE CLASS
2-part Class : LIVE Classes on 6th & 7th March
Suitable for: Adults, Beginners +
THIS LISTING IS FOR NON-UK RESIDENTS TO BOOK THEIR SPACE - PLEASE READ IN FULL (booking instructions at the bottom)
**THE PRICE OF THIS CLASS DOES NOT INCLUDE A COLOUR SAMPLE KIT AND EQUIPMENT BOX AND THE PRICE REFLECTS THIS**

Ready to take your skills up a gear?
If you've spent the whole of lockdown making amazing geo hearts and cakesicles and spending way more on Colour Mill than you ever intended, then you're ready to take the next step and learn how to make delicate, small, perfectly formed shiny chocolates (and no Colour Mill in sight!). And if you didn't, then don't panic, you can still join us!
Much cheaper, much tastier and much more beautful - join me and learn all about how to work with delicious Belgian chocolate and create your own perfect masterpieces!
This is a comprehensive beginners online chocolate class, taking you through everything that the home baker would want to know to get started in making 'proper' artisan style chocolates.
I know Chocolate is a scary subject for so many people - this class has been put together with the aim of making it super simple, easy to understand, easy to put into practice and to make chocolate a less daunting subject for you.
To keep it as straightforward and simple for you as possible, the class will be split into two separate live sessions, so that you can take your time to learn everything that we cover and work alongside me to complete your first chocolates, step by step - no rushing, no panicking - just relaxed, fun learning :)
Each class will have an accompanying PDF, summarising the key learning points so that you have a handy print-out to keep. There will also be two videos uploaded for you to enhance your learning.
We'll cover:
Tempering Chocolate

Choosing a mould

Preparation of moulds

Which colourings to use (and why)

How to colour cocoa butter

Using cocoa butter to decorate chocolates

Tips for making your chocolates super shiny

Techniques for designs and patterns

Recipes for creating ganache and chocolate fillings

How to fill your chocolates

How to complete your chocolates

Storage and packaging tips and advice
Your classes will take place in a private Facebook group, exclusively for students on this class. The live classes are scheduled to run on the following dates:
Saturday 6th March @10am (GMT) - Part 1 (3hrs)
Sunday 7th March @10am (GMT) - Part 2 (3hrs)
You do not have to attend the live classes - all live classes will be saved to our Facebook group so that you can access it at any time afterwards - watch it like a video and pause/rewind at any time :)
Once you have booked your space, you will be sent a schedule of events, ingredients and equipment lists and a link to join the private Facebook group.
Please note: this is a UK based class and we will be referencing products and equipment from the UK.
Ingredients and equipment:
All ingredients for this class can be purchased from chocolate / sugarcraft suppliers and through Amazon (I'll send you a full ingredients and suppliers list once you've booked the class).
You will need a few pieces of special equipment for this class such as a mould, a thermometer and a scraper (and chocolate of course!) - I'll send you links for all the equipment you will need for this class once you have booked your space.
How my online classes work:
Book your space(s) - you only need to pay ONE price per viewing household/facebook login

You'll receive an automated confirmation email, and then I'll manually send you another email within 7 days with full ingredients and equipment needed for the class

The second email will also have an invite to join our private Facebook group.

All videos, PDF's, handouts and certificates will be presented within the private facebook group. Once uploaded, they will be available in the 'files' section of the Facebook group, we will also label them with topic themes so that they are easy for you to locate.

You can enjoy the class LIVE or re-visit it at a future time at your leisure!
BOOKING A SPACE FROM OUTSIDE THE UK:
As I sell a lot of edible print products, my website is set up to only allow orders from within the UK. If you are booking a class, please enter your normal address but select 'United Kingdom' from the drop down list of countries on checkout and your booking should still go through.
**BOOKINGS FROM OUTSIDE THE UK WILL NOT RECEIVE A COLOUR SAMPLE KIT AND THE PRICE REFLECTS THIS - YOU WILL BE ADVISED OF THE CONTENTS SHOULD YOU WISH TO PURCHASE ANY YOURSELF**




As an online class, payments are non-refundable once completed - please ensure you are happy with the class outlined before checking out.
I LOVE teaching you my methods and techniques through my online classes - you are most welcome to use my designs for your own treats and for selling if you run a small business.
You are NOT permitted to teach the designs, format, teaching methods or re-distribute, sell or copy my copyright downloadable material, videos, pdf's, handouts or other written material. Any infringement of my copyright will result in removal from any online groups and further legal action.
I work incredibly hard to provide you with creative, fun and affordable classes - thank you so much for supporting my business :)