Cupcake Parties
PLEASE NOTE: WE ARE NOT CURRENTLY TAKING BOOKINGS FOR PARTIES OR PRIVATE BOOKINGS DUE TO COVID RESTRICTIONS - WE ARE CURRENTLY WORKING ON SAFE WAYS TO GET BACK TO TEACHING IN THE STUDIO THOUGH, SO PLEASE FEEL FREE TO COMPLETE THE ENQUIRY FORM SO THAT I CAN GET BACK TO YOU AS SOON AS ALL THE PROCEDURES ARE IN PLACE :)
Is your child a mini baker?
Do they love creating their own works of art in the kitchen?
Let them celebrate their birthday or a special event with a CakeyBake Children's Party!
Our parties can be run for children aged 4+ and can be specifically tailored with a theme that your child will love. We can make either Cookies or Cupcakes and create a truly memorable day that your child will remember forever!
Party Details:
Parties will begin with the children personalising their own apron which they will then wear throughout the class (and they take it home at the end!). We will then teach age appropriate techniques for creating stunning cupcake decorations or cookies - these could include:
Cutting shapes

Covering Cookies

Using edible printed sheets

Embossing

Painting

Glittering

Using sprinkles and pearls

Using Moulds

Piping

Everyone will then package up their beautiful creations in boxes or bags - we love to make sure everything looks LOVELY and the bags and boxes we use will be perfectly co-ordinated to the theme :o)
We also provide beautiful invitations with envelopes for you to send out to your guests and a personalised certificate at the end of the class for each child.
How long will the party last?

Parties will last approximately 2 hours and we'll take home all our mess, leaving you with a delighted little birthday person and nothing else to worry about :o)
Where do you hold parties?
For smaller groups of up to ten children, we'd be delighted to host you in our Cake School Studio for no extra charge.
We are happy to come to your home to hold a party or a hired hall (we are happy to recommend local halls but you will be need to arrange the venue and payment for the venue).
When planning your venue, please consider that we need enough space for each child to have a seat of their own at a table, a workmat in front of them and room to place their decorations. We also need 30minutes before and after the class to allow time for setting up and clearing up.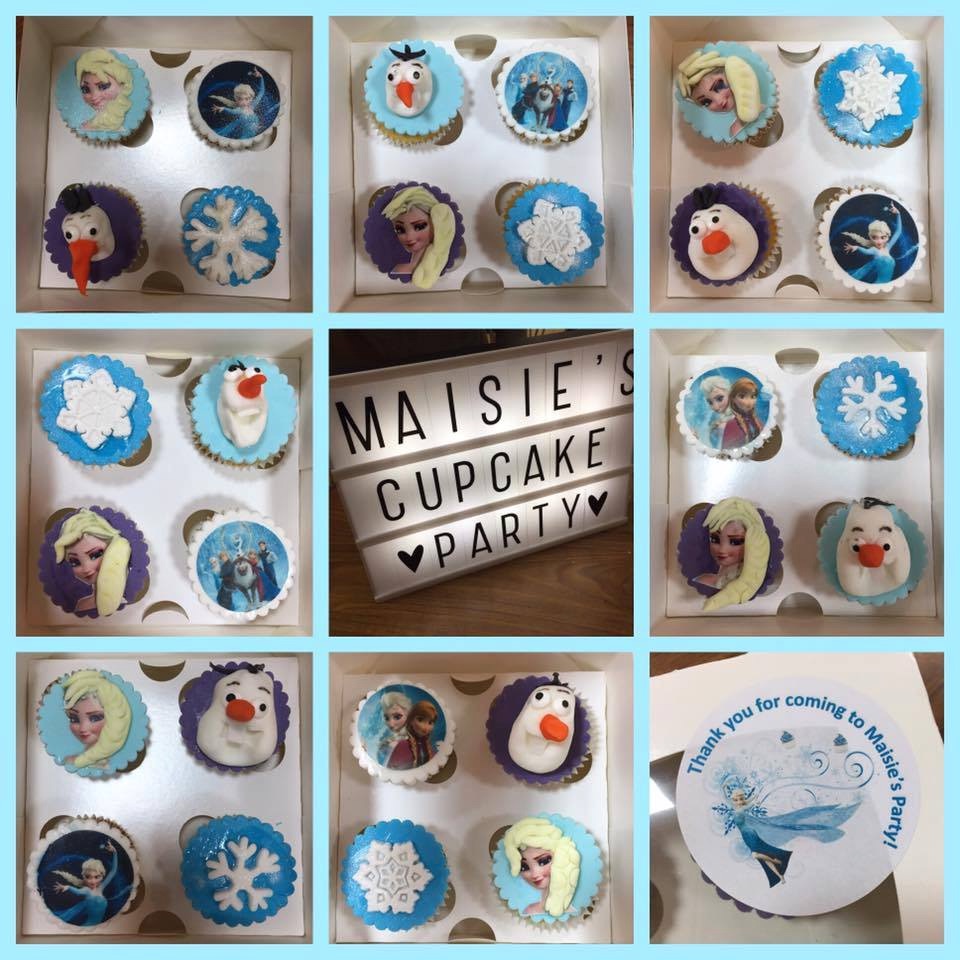 Who runs the parties?
All parties will be run by Kirsty, our multi-award winning cupake and cake deisgner. As well as being an awesome cake decorator and a professionally qualified trainer, Kirsty has an eight year old daughter who road tests all her ideas and techniques! Kirsty has run cupcake and cookie classes for ages 3-80 for more than six years and is fully prepared for creating a party that will be totally perfect for your child.
If you are booking a party for a large number of children, Kirsty's assistant Sue may also be in attandance to help out - Sue is a qualified teacher and also has children (and is the most brilliant helper).
Can we leave the children with you while you run the party?
Our parties involve using a lot of equipment and we ask that there is at least one adult present for every four children in the party - this way, you can help to enhance their experience by helping when necessary (you can also go and drink lots of tea and eat cake if you feel the children are doing fine without you). We may recommend more adults stay in attendance if the group is younger.
When do you run parties?
Parties can be run at a date and time to suit you - please contact me to see if I'm free on the date you have in mind - please remember that I also run regular adults classes on the weekend so a Saturday may not always be possible (view my class calendar here).
How much will it cost?
2020 Pricing is as follows:
- £245 for up to ten children
- £18.50 for each extra child
Pricing may increase if you wish to have bespoke designs or extra equipment for your specific party.
I travel from Paddock Wood and mileage is charged at 50p per mile each way for any destination more than 5 miles from Paddock Wood (the first five miles will not be charged).
Party Bags:
If you would like us to provide cupcake themed party bags, these will cost £5 extra per child and feature pencils, erasers, notelets, games, cute cupcake sprinkles and a cookie cutter.
What theme can we have?
We can design a party suited to any theme you choose! Popluar ideas are; Frozen, Princesses, Unicorns, Pets, Minions, Emojis to more 'grown up' themes such as Vintage, Pop Groups and Designer Cupcakes...
How do I book?
Please complete the form below to submit your enquiry and I'll the get straight back to you with confirmation and more information on how to secure your booking :o) Please note, we will invoice you for a non-refundable 50% deposit to secure your booking, with full payment due 14 days before your party date.